Title
Preview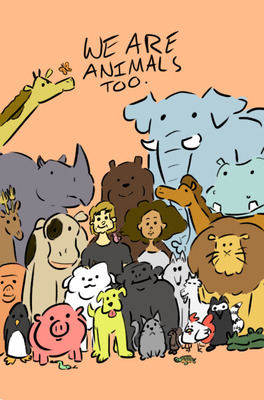 Creation Date
Spring 2021
Description
WHY THIS SUBJECT? I like animals and they are treated horribly. It's pretty messed up considering humans are animals too.
WHAT SHOULD WE KNOW ABOUT THE WORK? I made it in a cutesy cartoony way because there is no drama or backlash when using that type of style. More people are likely to give it a chance if it isn't super extreme in some area. All the most well know and iconic design's are simple. Also it's pretty much in my style, which is my favorite style.
WHAT WAS YOUR PROCESS? My technique and process was drawing it of a sketch book, and then scanning it into my computer where I can clean it up and make it look nice.
Creative Commons License


This work is licensed under a Creative Commons Attribution-NonCommercial-No Derivative Works 4.0 International License.
Keywords
animals, humans, giraffe, elephant, rhinosaurus bear, deer, cow, pig, dog, cat, gorilla, lion, goat, chicken, wolf, lamb, penguin, horse, hippopotamus
COinS