Title
Preview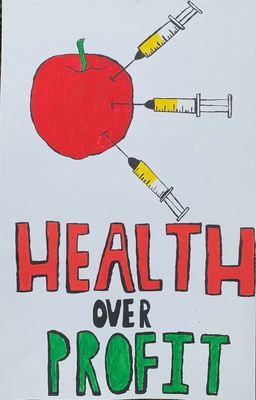 Creation Date
Spring 2021
Description
WHY THIS SUBJECT? To raise awareness on how our food is produced and manipulated for money and not for our well-being. Food should be natural and treated with care, not violated with unnecessary chemicals that we know nothing about.
WHAT SHOULD WE KNOW ABOUT THE WORK? We are what we eat?
WHAT WAS YOUR PROCESS? I wanted to create this by hand in a more traditional fashion because it felt more real and natural to do so. In the same way how I believe our food should be. I kept it simple because less is more in my opinion and my image that connects to the short statement speaks for itself. I also wanted this to come from the heart, using physical tools helped keep that part intact while creating my work.
Creative Commons License


This work is licensed under a Creative Commons Attribution-NonCommercial-No Derivative Works 4.0 International License.
Keywords
food, safety, well-being, chemical, money, apple, syringes, Health Over Protit
COinS