Preview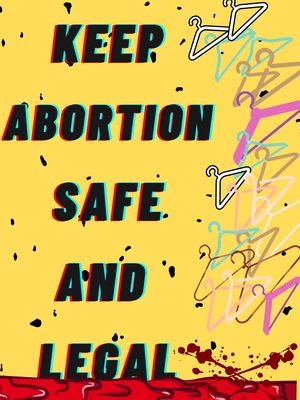 Description
WHY THIS SUBJECT? With the confirmation of Amy Coney Barrett to the Supreme Court, and the case Dobbs v. Jackson Women's Health Organization possibly being heard soon, I thought this was a fitting topic. I think that it is important to give women autonomy in their own bodies and this is fighting for that right to remain in place.
WHAT SHOULD WE KNOW ABOUT THE WORK? I tried to choose a lot of different colors into this piece to make it pop. This is a serious subject, and many people die from at home abortions if they do not have access to safe and legal ones. I wanted to highlight that in a lighter way with the graphics on my poster.
WHAT WAS YOUR PROCESS? I like phrases, because I feel like it conveys thoughts and ideas very quickly. I was inspired by local Chicago artist Ben Blount and his work with printmaking.
Creative Commons License


This work is licensed under a Creative Commons Attribution-NonCommercial-No Derivative Works 4.0 International License.
Keywords
United States, law, women, abortion, hangers
COinS