Title
Preview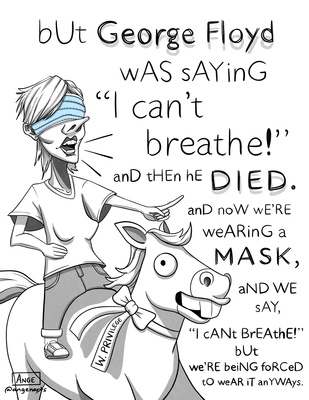 Description
WHY THIS SUBJECT? This poster was made to tackle the appropriation of the "I Can't Breathe!" phrase used by the anti-mask protests despite it originating in the Black Lives Matter movement due to George Floyd's death. It is very insensitive and ignorant of the anti-mask protestors to compare the death of a man to the legal safety procedure usage of masks. The phrase appropriation of anti-mask communities is unacceptable and is not limited to only this phrase, as they have appropriated "My Body My Choice" as well.
WHAT SHOULD WE KNOW ABOUT THE WORK? This poster was made for an assignment in the Art, Design, and Change CCCX class at Columbia College Chicago. The quote is directly from Shauna Kinville, a white woman in Utah who took part in an anti-mask protest.
WHAT WAS YOUR PROCESS? This piece was made on the iPad Pro 10.5 inch 2017 model with an Apple Pencil on the Procreate App. In terms of the style, I went for caricature as it would appeal more to the millennial/younger community, essentially people who are most active in this digital time. I did include ink texture in the shading to add a semi-traditional feel to the image. Amid 2020, the Karen figure has been extremely prominent as white privilege has been called out and many have displayed the "Karen behavior" with the BLM movement. The character in the poster was inspired by the Karen-type people out there and she is wearing her mask wrong, therefore missing the entire point of the phrase and purpose of the mask. The style of the text was to match the illustration itself as well as the "mocking text" used in memes to essentially deem something as stupid. The color scheme was made to be able to accommodate those who cannot afford to print with color, as it does not call for that much ink as well.
Creative Commons License


This work is licensed under a Creative Commons Attribution-NonCommercial-No Derivative Works 4.0 International License.
Keywords
George Floyd, Black Lives Matter, anti-mask protest, Shauna Kinville, Utah, woman, blindfolded, horse with w. privilege" ribbon, "but George Floyd was saying I can't breathe and then he died and now we're wearing a mask and we say I can't breathe but we're being forced to wear it anyways"
COinS