Title
Preview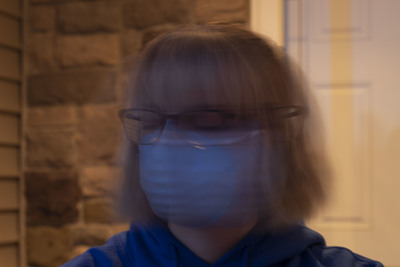 Creation Date
Spring 2020
Description
WHY THIS SUBJECT?: I chose this long exposure self portrait because I kind of wanted to show that life is still moving even though we are stuck indoors. Every time I go out, I wear a mask to ensure that I keep myself and others safe. I wanted to include that in this image because I think the visual of someone wearing a mask is very powerful no matter the circumstances.
STAYING INDOORS THOUGHTS: Shelter in place is both the same and different for everyone. Everyone is under the same orders, but each experience is different. Some are handling it okay, some are destroyed by it. There are different degrees of distraught among everyone, and sometimes that's hard to see just by looking at a photo of someone or talking to them every once and awhile. Many keep what they are feeling to themselves because they just don't know how to deal with it. There's no doubt that everyone wants this to be over, but it should be very clear that it can't end unless people comply with the shelter in place orders. It's difficult, but it has to be done.
WHAT TO KNOW ABOUT THE IMAGE: I took this at a 1 second exposure to capture my movement. I used the Canon Camera Connect app on my phone to shoot this self portrait on my porch. I find that the blurriness adds an effect to the photo that makes it what it is; without it the photo would lack meaning and visual interest.
Creative Commons License


This work is licensed under a Creative Commons Attribution-Noncommercial-No Derivative Works 4.0 License.
Keywords
color, portrait, stuck indoors project, student work
COinS