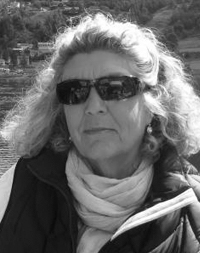 Andrea E. Leland, a film maker and artist, attended the School of the Art Institute in Chicago, then traveled throughout the Caribbean capturing moments within its communities through the medium of paint.
In 1986, changing her artistic medium to film, she began to document and celebrate communities in Haiti, Belize, Virgin Islands, Mexico, and the United States.
Her first documentary, Voodoo and the Church in Haiti, illustrates aspects of Voodoo and how it fits into everyday Haitian life. Her second documentary,The Long Road Home, focuses on the Mayan community living in Guatemala under its 1980s government policy known as "Scorch and Burn" which caused the Maya to migrate to Chiapas, Mexico.
For her next film in 1995, she collaborated with Kathy Berger, a producer, for The Garifuna Journey, documenting Garifuna tradition bearers in Belize and below is a study guide to the film.
Another film project was completed in 2014, Yurumein (Homeland), a collaborative work with the Caribs/Garifuna of St. Vincent in the Caribbean, documenting the attempts to bring this culture back to the nation as its traditions and culture were almost lost during years of colonial repression. Filmed oral histories with transcripts are available here and below is a study guide to the film.
Andrea E. Leland provides more information about her work and films.
INTERVIEWS are available. Andrea Leland conducted them while in the Caribbean, specifically in St Vincent, with her crew where they filmed and transcribed these oral interviews with Carib and Garifuna people.
Browse the Andrea E. Leland Documentary Collection: