Title
Preview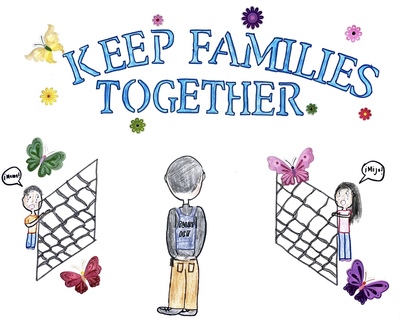 Creation Date
Spring 2021
Description
WHY THIS SUBJECT? I chose immigration because there are still children who are kept in cages and most of them haven't been freed. People from all over Latin America have a dream of coming over to the United States for a better life. Most of these children are not even old enough to take care of themselves and they need to be with their parents.
WHAT SHOULD WE KNOW ABOUT THE WORK? The audience should know that thousands of children are kept away from their parents and that this is still an issue in America.
WHAT WAS YOUR PROCESS? My process was drawing everything by hand and utilizing cut out letters to write the message and for it to be clear enough. I used markers and color pencils and I also added butterfly stickers around the child and the mother to represent freedom.
Creative Commons License


This work is licensed under a Creative Commons Attribution-NonCommercial-No Derivative Works 4.0 International License.
Keywords
immigration, Keep families together, police, ICE, U.S. Immigration and Customs Enforcement, chain link fences, Mijo!, Mama!, tears, butterflies
COinS