Title
Preview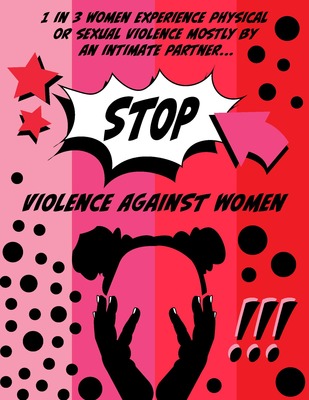 Creation Date
Spring 2021
Description
WHY THIS SUBJECT? I chose this subject because as a woman, I know what it is like to experience these things and I know so many women that are affected by this type of violence so it really hit home with me. I also wanted to make people aware that there are SO many women that experience this.
WHAT SHOULD WE KNOW ABOUT THE WORK? I wanted to do a comic book style, not only because it is attention grabbing, but because reading comic books is stereotypically male dominant and I think it would be interesting to turn that hobby to women and talk about the violence that they are faced with every day.
WHAT WAS YOUR PROCESS? I created the piece on Adobe Illustrator and I wanted the piece to have comic book style and feel so that it was jumping out at you and really drawing in the audiences attention. I think that the bold colors and lines really does bring out the poster well.
Creative Commons License


This work is licensed under a Creative Commons Attribution-NonCommercial-No Derivative Works 4.0 International License.
Keywords
1 in 3 women experience physical or sexual violence mostly by an intimate partner, Stop violence against women
COinS