Preview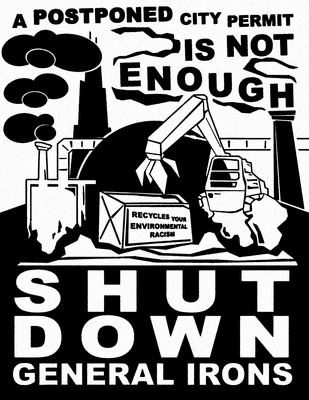 Creation Date
Spring 2021
Description
WHY THIS SUBJECT? I chose this subject because I feel closely aligned with this subject. As a person from and currently living in the Pilsen neighborhood of Chicago, neighborhoods like mine along the river in the Lower West Side and South Side of the city have taken the biggest burden of industrial hubs polluting the air around them. The Southeast side of the city is also another place burdened by poor air quality which General Irons plans to move their facility to. This is a direct example of environmental racism as they shut down their Lincoln Park facility to move to another neighborhood - specifically to an area of the city with a high population of people of color.
WHAT SHOULD WE KNOW ABOUT THE WORK? The work depicts a black rising sun in the background being covered by industrial work from the facility and a crane. The Willis Tower is visible in the background but it is covered in industrial smoke. The crane at the front of the poster is seen picking out from a waste bin labeled "Recycles Your Environmental Racism" in response to General Iron's claims on their website of being a very important recycling plant in Chicago. The text at the top "A Postponed City Permit is not Enough" is in response to Lori Lightfoots decision to postpone the decision to grant General Iron's the construction permit in the Southeast side after Michael Regan, President Biden's top Administrator of the U.S. Environmental Protection Agency, advised Lightfoot against it. This same text is also slightly skewed to the left and looks as if the words came out of the smokestack on the right side of the poster. The factory and crane also are depicted to be breaking apart at their base displaying their destructive nature. Leaving the poster to be black & white was a very specific design choice for me as the poster is suppose to mimic what it could look like if it were a wood-block print.
WHAT WAS YOUR PROCESS? Using photoshop, I used marquee tools to fill in areas in different shades of gray at first beginning with the background design and working other design elements into it. I first began with the facility at the left of the page and moved my way to the right when it came to working on the crane. I purposefully used a marquee tool to give the design some sharper edges with the only design element with rounded edges being the smoke that comes out of the smokestack on the left side.
Creative Commons License


This work is licensed under a Creative Commons Attribution-NonCommercial-No Derivative Works 4.0 International License.
Keywords
environment, corporations, pollution, racism, A postponed city permit is not enough, Recycles your environmental racism
COinS