Preview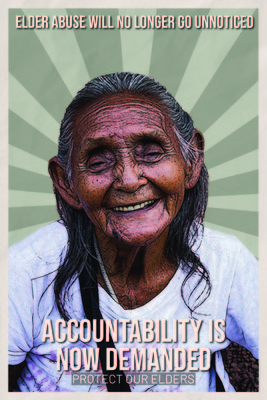 Creation Date
Spring 2021
Description
WHY THIS SUBJECT? My sister works in a retirement community, thankfully not one with a reputation to mistreat their elders. Since her tenure there, I've had wild visions of elders being taken advantage of, wether mentally or physically. Modern media certainly hasn't helped at all when it comes to this disheartening subject. Hollywood, as always, takes a topic and glamorizes it, turns it into a desired money-making scheme. I think portrays in media and the lack of backlash from society regarding the topic of elder abuse is to be ashamed of. My goal was to inform those who weren't already aware, and to inform to elder class of the problem and that they have the option to voice themselves if they feel they are being neglected.
WHAT SHOULD WE KNOW ABOUT THE WORK? This piece was inspired by my sisters working at a retirement community and also Netflix's film "I Care A Lot" which is a film that glamorizes and underplays the effects of elder abuse.
WHAT WAS YOUR PROCESS? This piece was done completely digitally. It combined photography and graphic design. I begin drafting this with simply a color scheme and typefaces. From there, I developed a vision and then combined the photography and my design abilities to create a set of three posters. Two are more powerful statements about the subject at hand, Elder Abuse, and the other features harrowing statistics.
Creative Commons License


This work is licensed under a Creative Commons Attribution-NonCommercial-No Derivative Works 4.0 International License.
Keywords
Elder abuse will no longer go unnoticed, accountability is now demanded, protect our elders, portrait, woman
COinS