Title
Preview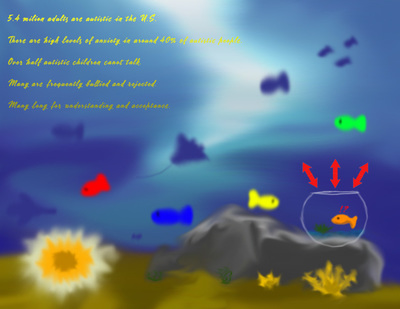 Creation Date
Spring 2021
Description
WHY THIS SUBJECT? I am on the autism spectrum and felt there was still a lack of awareness in this cause.
WHAT SHOULD WE KNOW ABOUT THE WORK? This work was completed in Photoshop and is supposed to represent the general feeling of being on the spectrum.
WHAT WAS YOUR PROCESS? I took a metaphor I had once heard from a specialist and visualized it as best I could in a paint-like form, although this is digital. I used digital tools that resembled the physical utensils I used to have access to in my high school art classes.
Creative Commons License


This work is licensed under a Creative Commons Attribution-NonCommercial-No Derivative Works 4.0 International License.
Keywords
autism, 5.4 million adults are autistic in the U.S., There are high levels of anxiety in around 40% of autistic people, Over half autistic children cannot talk, Many are frquestnly bullied and rejected, Many long for understanding and acceptance, water, fish, fishbowl
COinS