Title
Preview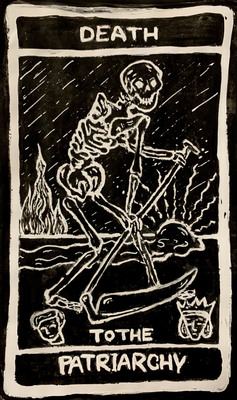 Creation Date
Spring 2021
Description
WHY THIS SUBJECT? I was inspired by both the second-wave feminism of the 60's, as well as the radical feminism of today, and their view on the patriarchy. I believe that the patriarchal society as a whole must be dismantled and reformed in order for there to be true equality, snd that gender roles are harmful to everyone.
WHAT SHOULD BE KNOW ABOUT THE WORK? The Death tarot card symbolizes an end, but also an eventual transformation and new beginnings. I chose to incorporate the tarot card because I believe there is an inevitable change that will take place within our society, and this change will bring out new beginnings and transformations.
WHAT WAS YOUR PROCESS? This is a linocut print made with ink and printed on paper.
Creative Commons License


This work is licensed under a Creative Commons Attribution-NonCommercial-No Derivative Works 4.0 International License.
Keywords
feminism, equality, gender, card, skeleton, sickle, Death to the Patriarchy, fire
COinS