Preview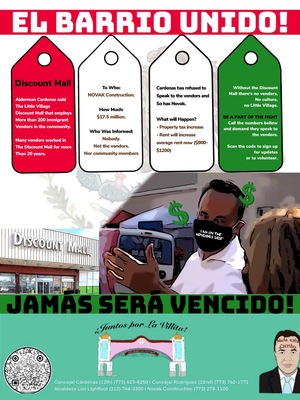 Description
WHY THIS SUBJECT? My neighborhood Little Village which I've lived for 19 years is close to being gentrified, displaced, and erased of its long resistance and established Mexican culture. It all started with our alderman George A. Cardenas selling the Discount Mall leaving more than 200 vendors without jobs, taking away their livelihood, and potentially gentrifying Little Village as NOVAK and Cardenas plan to turn the Discount Mall into a Target. This not only leaves immigrant workers without jobs, but its increases poverty for brown families, displaces the people, and kills the culture of what Little Village is known for. As a resident of Little Village and member of Juntos por la Villita, it's important that La Villita is brought justice as well as the 200 plus vendors affected.
WHAT SHOULD WE KNOW ABOUT THE WORK? This piece allows access for anyone to become apart of change, so that vendors can continue to make a living for themselves, their families in the U.S. and outside the U.S., and to continue resistance in Little Village to fight against gentrification.
WHAT WAS YOUR PROCESS? gathered the information that I am aware of from the vendors and the group of Juntos por la Villita, and made it clear for the people to understand what's going on. My community is the voice and so they are in my poster from the color choice, the photographs, and the background.
Creative Commons License


This work is licensed under a Creative Commons Attribution-NonCommercial-No Derivative Works 4.0 International License.
Keywords
Chicago, neighborhood, Little Village, "Jamas Sera Vencido!", "I am on the vendor's side!", George A. Cardenas, Novak Construction, gentrification, immigrants, Discount Mall, vendors
COinS