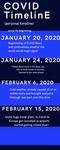 Capturing Quarantine: Student Pandemic Experience Journal
A student journal submitted for the Public History: Presenting and Interpreting the Past 2021 summer session at Columbia College Chicago, focused on the global pandemic and chronicling how it impacted each student's life.
Description
Journal entries submitted by the Public History 2021 summer session class at Columbia College Chicago reflecting on aspects of the global pandemic from the student perspective commenting on their personal pandemic timeline and the other is an essay about what each student learned so far from the pandemic.
This paper has been withdrawn.