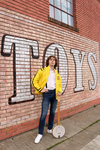 Files
Description
Nathan Gagnon (he/him) was born in Berkeley, California in 2002 and was raised by his French-Canadian immigrant parents in Albany, California. He has always been creative: he was an aspiring animator from a young age, making videos with LEGO in his free time. In middle school he started learning piano, and he now plays guitar and sings as well. In 2019 he played his first open mic at The Octopus, a local music venue which has since closed permanently. In the spring of 2020, he had a socially distanced graduation from Albany High School after many months of remote learning. In the fall of 2020, he started his first semester at Columbia College Chicago in the midst of the COVID-19 crisis, pursuing a major in Traditional Animation with a focus in Stop Motion. He continues his studies from his current residence on campus in Chicago, Illinois, and plans on graduating in 2024.
Publication Date
Fall 2020
Publisher
Columbia College Chicago
Keywords
COVID-19, pandemic, Chicago, Illinois, United States, coronavirus
Creative Commons License


This work is licensed under a Creative Commons Attribution-NonCommercial-No Derivative Works 4.0 International License.
Disciplines
Arts and Humanities | Oral History | Public History | Social and Behavioral Sciences
Recommended Citation
Donahue, Christopher, "Interview with Nathan Gagnon" (2020). Capturing Quarantine Oral Histories. 26.
https://digitalcommons.colum.edu/capturingquarantine/26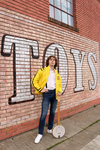 COinS