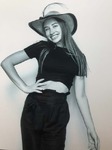 Files
Description
Claire Belhumeur was born in Southhampton, New York and was raised in East Hampton, New York. As an only child, Claire's household consisted of herself, her parents, and their family dog. She attended high school at East Hampton High School where she graduated in 2018. With both parents working in the film industry and through various school productions, she discovered her love of acting that lead her to pursue a BFA in Acting at Columbia College-Chicago in the fall of 2018. During her time at Columbia, Claire became involved with the school's modeling organization, the Picture Perfect Modeling Troupe, as well as several student films. In 2020 during her sophomore, spring semester, the Coronavirus caused Columbia College to shut down along with the rest of the world. Since Claire could no longer continue living on campus, she returned to her hometown of East Hampton, just outside of New York City where the virus was most prevalent in the nation. Claire and her family currently remain in their East Hampton home, attempting to avoid the New York City residents that flooded the Hamptons to escape the growing infection rates in the city.
Publisher
Columbia College Chicago
Keywords
COVID-19, pandemic, coronavirus, New York, East Hampton, acting, modeling, student organization, sophomore, Columbia College Chicago, Illinois, United States
Creative Commons License


This work is licensed under a Creative Commons Attribution-Noncommercial-No Derivative Works 4.0 License.
Disciplines
Arts and Humanities | Education | History | Social and Behavioral Sciences | Sociology
Recommended Citation
McCumber, Rachel, "Interview with Claire Belhumeur" (2020). Capturing Quarantine Oral Histories. 1.
https://digitalcommons.colum.edu/capturingquarantine/1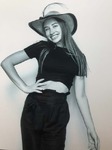 COinS