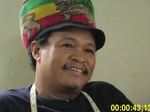 Description
A Kalinago man who runs a tailoring business in Sandy Bay, St Vincent, and a hobbyist historian, Nixon Lewis has done a lot of research on the history of St Vincent. One of Mr Lewis' sons, a community college student, also shares some of his experiences as a Carib in St Vincent. The interview was conducted in March 2012 by filmmaker Andrea Leland with Fabian Guerra on camera and Betsy and Andrea Leland transcribing in Sandy Bay, a Carib village in St Vincent, West Indies. Transcript: 12 pages. Interview: 52:03 minutes.
Publication Date
3-15-2012
Keywords
Garifuna, Carib, Black Carib, St Vincent, Caribbean, West Indies, exiled, first voice, slavery, colonialism, British colony, genocide, indigenous, cassava, Native American, Afro-Caribbean, African Diaspora, Orinoco, Yurumein, Garifuna Journey, homeland, Kalinago, the Grenadines, Belize, Honduras, Roatan, Guatemala, Garifuna collective
Creative Commons License


This work is licensed under a Creative Commons Attribution-Noncommercial-No Derivative Works 3.0 License.
Disciplines
Arts and Humanities | Education | Social and Behavioral Sciences
Recommended Citation
Lewis, Nixon and Leland, Andrea E., "Interview with Nixon Lewis" (2012). Yurumein - Homeland. 5.
https://digitalcommons.colum.edu/yurumein/5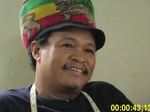 COinS