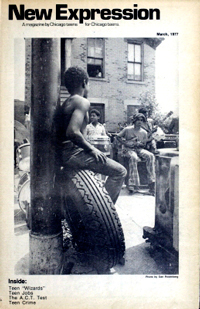 About the Collection
Youth Communication Chicago offices were located at Columbia College Chicago until 2011. YCC collaborates with local college students and the Columbia College Chicago Journalism Department has served as a YCC collaborator. The collection strength lies in the complete run of New Expression, the YCC publication from 1977 to 2010. Other collection material includes negatives, proof sheets, information sheets, and photographs produced for articles and a small amount of office files containing manuals and other paperwork.
Historical Note
A federal study on the state of high school journalism conducted in 1974 found that urban minority students were underrepresented and did not have a strong voice. These findings caused Sister Ann Heintz, a Chicago school teacher, to establish Youth Communication, a non-profit organization, in 1976.
Now known as Youth Communication Chicago (YCC), the organization continues to serve urban high school journalists by offering a forum in which to be heard and has worked with more than 3,750 Chicago students since it was founded.
The Chicago high school journalists research, contribute, write, and edit articles to produce the news publication, New Expression, that reports on current events, issues, college and career news, business, entertainment and sports. The publication is circulated throughout the Chicago-land area and is available at high schools and other locations.
For its early years, New Expression was funded by the Robert F. Kennedy Memorial, Urban Dynamics/Inner City Fund, Leo Burnett USA, and the Continental Bank Foundation. "Youth must be heard and understood. The expression and sharing of their experiences, concerns, and solutions is critical to their ability to shape their present and future worlds. Youth Communication provides Chicago area youth with mass media vehicles to voice their ideas" is the organization's mission.
Collection Inventory
Want to see more of the Youth Communication Chicago Collection's materials at Columbia College Chicago? Access the online finding aid to see the holdings of the entire collection. Please contact us with any questions and requests to view materials.
Browse the Youth Communication Chicago Journalism Collection: