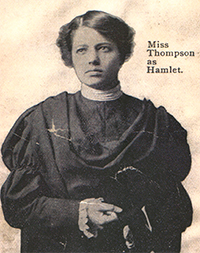 Columbia College Chicago has been teaching theater -known as 'dramatic action' in the 1890s, then 'dramatic arts' in the 1910s - since its founding. An institution established to teach oratory and expression, Columbia College Chicago has always placed emphasis on performance and stage work.
The advent of radio, motion pictures, and television required theater training; theatrical instruction became more specialized in the latter part of the 20th century, with separate courses offered in stagecraft and interpretation.
The 1959, the 'Dramatic Arts' program held new emphasis on training directors and actors for stage, radio,and television. The department became 'Theater Arts" in 1970, remaining focused on stage performance, direction and writing through an "innovative and unusually contemporary plan of theater education."
In 1977, when the campus moved to the South Loop, the program merged and became the 'Theater/Music' department, with productions performed in the Columbia Theater Center. Theater and Music became separate departments in 1996 and the department changed its name once more from 'Theater' to 'Theatre' in 2009.
The college purchased the 72 E. 11th Street building in 1980. Performance has always been an important aspect of the program , both for experience and public recognition. Students acquired an integrated artistic experience where performance, creation and education came together to create an intense, uplifting, and real communion of artist and audience.
The performance space retained the name, the 11th Street Theater, and in 1981, the first Columbia performance was Island of the Lost Coeds. In 1985, this main theater space was renamed the Emma and Oscar Getz Theater, named by Emma Getz, the primary donor, who requested it be named in honor of her and her deceased husband jointly. Its first performance was Stage Door.
In 2017, the Getz Theatre and other performance spaces in the building were renovated, reopening in 2018. The theatre complex is now known as the Columbia College Chicago Getz Theater Center, housing four performance spaces.
Chairs for the Theatre Department include:
1957-1969 Lucille Strauss
1969-1970 Arnold Weinstein
1970-1972 Don Sanders
1972-1974 Ronnie Davis
1974-1976 Fritzie Sahlins
1976-1980 Paul Carter Harrison
1980-2009 Sheldon Patinkin
2009- 2016 John Green
2017 -2018 Peter Carpenter (Interim Chair)
2019 -2021 Carin Silkaitis
2021-2022 Susan Padveen (Interim Chair)
2022 - Susan Padveen
The Guide to the Theatre Department Records lists its contents.
Related Collections
Jeff Ginsberg Collection An actor, director, and educator, he served as the Coordinator of the Acting Program of the Theatre Department and as co-artistic director of the National Jewish Theatre and co-artistic director of the Immediate Theatre Company.
Related Publications
Dialogue contains essays, plays, and monologues written by faculty and performance professionals from 2005 to 2008.
Plotlines produced as a student newsletter to update students about departmental news.from 2000 to 2006.
Season Ticket offers news about performances and departmental news from 1985 to 2006..
Browse the Theatre Department Collections: