Title
Preview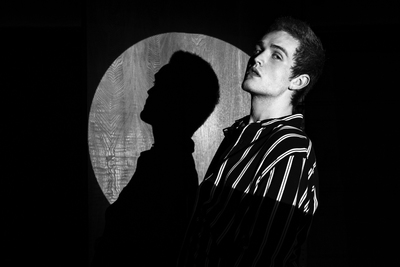 Creation Date
Spring 2020
Description
WHY THIS SUBJECT? I wanted to portray the feeling of what it's like moving home with my parents after being alone and free in the big city of Chicago. I know it is all with love, but they like to check in on me, say hi, and show me funny videos.... a lot! Being the only child at home with them, I feel as if I am caught in the spotlight, having my every move analyzed.
STAYING INDOORS THOUGHTS: It's rough! Thankfully, I am privileged to have my own bedroom as an escape, but after nearly a month of isolation, I have still not completely adjusted to it. I am counting down the (indefinite) days until I can move back to Chicago!
WHAT TO KNOW ABOUT THE IMAGE: This was a project that I have been wanting to try for a while. I created different things in Photoshop (shapes, words, and landscapes) to project onto myself, but ultimately decided that a simple circle articulated my feelings best. This is not only a way that I can experiment with lighting scenarios without accessibility of a lighting studio, but also a way to merge two of my favorite mediums into a single piece of work.
Creative Commons License


This work is licensed under a Creative Commons Attribution-Noncommercial-No Derivative Works 4.0 License.
Keywords
spotlight, black and white, stuck indoors project, student work
COinS