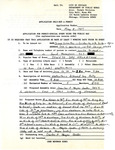 Description
The application submitted by the Chicago Committeee in Solidarity with Southern Africa (CCISSA) to the Dpartment of Public Works for the City of Chicago, Illinois to use city streets for the 1989 Soweto Day Walkathon. This document includes a copy of the permit issued to CCISSA by the Department of Public Works for this event.
Publication Date
5-8-1989
Keywords
Protest movements, Demonstrations, South Africa -- History -- Soweto Uprising 1976, Anti-apartheid movements, Anti-apartheid activists, Apartheid
Disciplines
African History | History | Social History | United States History
Recommended Citation
Chicago Committee in Solidarity with Southern Africa. "Application for Permit - Special Event Using the Public Way" (1989). Chicago Anti-Apartheid Movement Collection, College Archives & Special Collections, Columbia College Chicago.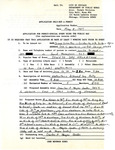 COinS