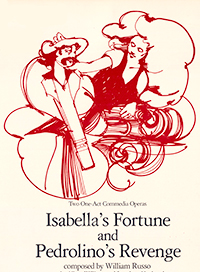 About the Collection
Born in Chicago on June 25, 1928, and raised on the city's North Side, William Russo was a composer of jazz, rock, symphonic music, operas, ballets, film scores, and music-theatre works as well as an teacher and author. He founded the Columbia College Center for New Music, forerunner of today's Music Department, in 1965. He served at Columbia from 1965 until his retirement as Chair of the Music Department in 2002. In his wide-ranging career he worked with many notable collaborators, including jazz bandleaders Duke Ellington, Stan Kenton, and Dave Brubeck; classical musicians Leonard Bernstein, Seiji Ozawa, Karel Jirak, and Yehudi Menuhin; instrumentalists Dizzy Gillespie, Gerry Mulligan, Cannonball Adderley, Larry Adler, Benny Carter, Lennie Tristano, Maynard Ferguson, Corky Siegel, Steven Staryk, and Orbert Davis; and vocalists Billie Holiday, Annie Ross, Cleo Laine, Irma Routen, Aisha de Haas and Darius de Haas.
He died on January 11, 2003, five days after conducting his last concert at Chicago's famed Jazz Showcase nightclub.
Collection Inventory
Want to see more of the William Russo Collection's materials at Columbia College Chicago? Access the online finding aid to see the holdings of the entire collection. Please contact us with any questions and requests to view materials.
Related Resources
William Russo Music and Personal Papers
The collection is held at the National Museum of American History, Smithsonian Institute, Washington, D.C.
Browse the William Russo Collection: