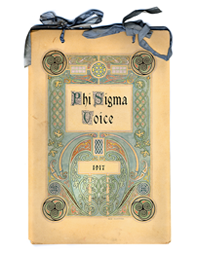 Phi Sigma is dedicated to public speaking and is the second oldest, continuously running organization of its kind in Illinois
History
On April 5, 1878, six young men, Gerald H. Beard, W. (William) Harrington Beard, Robert Jeneson, John W. Mabbs, C. (Charles) Herbert Small, and Henry B. Wilson, formed a literary society in Chicago, Illinois. Their first meeting, held at the Beard Brothers Book Store, 453 West Madison Street, (now 1308 W. Madison Street) is described "in the corner of that store on a bench, two chairs, a stool and a keg (I think there was a keg - empty keg) the old Phi Sigma started!" (W. Harrington Beard). Initially, the group struggled with naming itself and members simply referred to themselves as the "Class." By March 1879, the name "Phi Sigma" was chosen. the Greek name for "Knowledge Seekers."
The group formed with the purpose to "devise ways to aid in the study of literature and history and to afford an opportunity for practice in debate." During its first few months, members devoted themselves to serious study, critique, and presentations. As time went on, the weekly meetings "degenerated into a good deal of boys frolic." As a result, Mr. Beard proposed a disbandment of the group in January 1879. However, this proposal was "voted down and with a promise to do better in the future."
In February 1882, William Hulin proposed admitting female members to Phi Sigma. At the March 21, 1882 meeting, six women joined the group: Jennie H. Allen, Frederica Beard, Vivien Cowles, Minnie Hanley, May G. Harsha, and Alice G. Hinchliffe.
Phi Sigma regularly published a compilation of papers call "The Voice of the Phi Sigma," or "The Voice," and presented them at meetings. The first volume was issued on June 10, 1879 and every two weeks thereafter. Since the members of Phi Sigma dedicated themselves to "mental improvement," "The Voice" served as an outlet for debate, information, news, and study. An editor was picked by the Chairman (later, the President) of the organization four weeks prior to the release of the issue. Topics covered spanned many subjects and many issues include announcements about members and "squibs" sections that include jokes, riddles, word puzzles, and quotations. Over time, the publications recurred less often and by 1900, "The Voice" was issued annually.
Although study was the priority of Phi Sigma, the group became a strong social organization. Many early members were engaged and married and they held annual picnics in nearby grounds. The Phi Sigma Camping Club was incorporated in 1891 after several members ventured to Twin Lakes, Wisconsin in July 1890 to visit Dr. Walter May Fitch's cottage. Phi Sigmites have also held annual banquets for New Year's celebrations and anniversaries of the group.
Members and guests continue to gather monthly from October to May at the home of one of its members. A talk is featured at each meeting, presented by a group member, focused on a theme selected at the beginning of the season. There is discussion of the topic after each talk. Phi Sigma today continues in accordance with its long traditions first established in that Chicago bookstore. The May meeting traditionally has its members engaged in an outing, a party, or a field trip to wrap up the class or season of that particular year.
Collection Inventory
Access the online finding aid to see the holdings of the entire collection. Please contact us with any questions.
Related Resources
Harrington Beard House The family who opened the city's first art gallery in Minneapolis Minnesota built this home.
Gerald H. Beard Papers, Yale Divinity Library Archives.
Frederica Beard list of books authored by the longtime Oak Park, Illinois resident.
Chicago Literary Club The oldest organization of its kind in Illinois
Browse the Phi Sigma Oratory Collection: