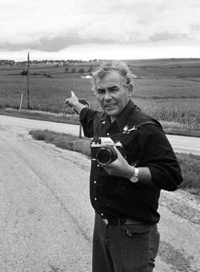 About the Collection
The Archie Lieberman Collection contains the work of a professional photojournalist from the 1950s to the early 2000s. His photographs appeared in magazines such as Look, Life, and Time and he worked for Black Star Agency and for corporations like Land's End, Acme Steel, and Inland Steel. His photographs have been exhibited in the United States and abroad and he also was author of or photographer for over twenty books. The job notebooks he kept allows access to the many prints, slides, negatives, correspondence, and photographs in his collection.
His passion for his work is best seen in two the multi-decade photographic projects, Farm Boy and Neighbors, that capture American farm life in Illinois. He also worked with Ray Bradbury to produce The Mummies of Guanajuato, with his photographs of the preserved corpses in that Mexican town that accompany Bradbury's text, and with novelist Meyer Levin on The Story of Israel.
The College Archives & Special Collections holds the definitive collection of Archie Lieberman material that chronicles the professional, creative life of this working photographer and author.
Collection Inventory
Want to see more of the Archie Lieberman Collection's materials at Columbia College Chicago? Access the online finding aid to see the holdings of the entire collection. Please contact us with any questions and requests to view materials.
Related Resources
Look Magazine Collection at the Library of Congress
Browse the Archie Lieberman Photography Collection: