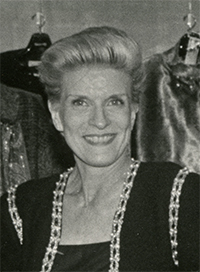 About the Collection
Nena Ivon was raised in Chicago's Rogers Park neighborhood and in Evanston, Illinois. When she was 16 she took a summer job with Saks Fifth Avenue in downtown Chicago selling sportswear. The death of her father the following year changed her plans to attend college and she continued to work for Saks Fifth Avenue in Chicago. At age 17 was promoted to assistant fashion director and eight years later became the store's Director of Fashion and Special Events, the job she held for the next forty years.
She has served on numerous industry, civic, and charitable boards, including: The Fashion Group of Chicago; the Chicago Apparel Industry Board; Chicago Historical Society's Costume Collection Committee; Children's Memorial Hospital; Chicago Symphony Orchestra; Grant Park Concert Society; and the Lincoln Park and Brookfield zoos. She also teaches in the Fashion Studies program of Columbia College Chicago, developed the College's Skrebneski Scholarship Award, and works extensively with Fashion Columbia.
Collection Inventory
Want to see more of the Nena Ivon Collection's materials at Columbia College Chicago? Access the online finding aid to see the holdings of the entire collection. Please contact us with any questions and requests to view materials.