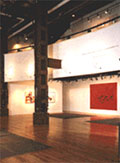 About the Collection
Gallery 312 was founded in 1994 by Lewis S. and Anne Neri Kostiner. The Kostiners opened the Gallery as a nonprofit art organization in a renovated warehouse building at 312 North May Street in the Fulton Market District of Chicago, Illinois. It was the second art gallery to open in the West Loop after Paul Klein and was active for 11 years before its closing in 2005. During its operation, Gallery 312 committed its efforts to the development of local artists and exhibited works by local and international artists alike. In the tradition of the Kostiner's photography backgrounds, many of the exhibits featured artists in the photographic medium. Notable Chicago photographers who showed there include Aaron Siskind, John Vinci, and Harry Callahan.
The activities, programming, and exhibition selections at Gallery 312 were intended to initiate dialogue on contemporary art and social issues. Their mission was to assist Chicago's emerging artists and facilitate their work by providing them work and exhibition space. Each year, "The Summer Show" exhibition showcased artists not backed by gallery representation. Some of the artists featured in this annual show have since become well known in the art world. Tony Tasset, Mayumi Lake, Ursula Sokolowska, and Alison Ruttan have gone on to exhibit in national and international museums and festivals and featured in publications such as ArtWorld Digest and F-Stop Magazine. In the summer of 2010, Tony Tasset's "The Eye" was installed as a public sculpture in Pritzker Park at State and Van Buren Streets in the Chicago Loop. Other recognized artists who were featured include Jed Fielding, Michiko Itatani, Dawoud Bey, Esther Parada, Leon Golub, and Cindy Sherman.
In 2010, the Kostiners donated its records to the Museum of Contemporary Photography (MoCP) at Columbia College Chicago and was later moved to the Columbia College Chicago Archives.
Collection Inventory
Want to see more of the Gallery 312 Collection's materials at Columbia College Chicago? Access the online finding aid to see the holdings of the entire collection. Please contact us with any questions and requests to view materials.
Related Resources
Gallery 312 Website, 2001-2010