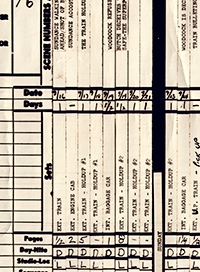 About the Collection
Robert Enrietto was born July 13, 1941 in Chicago. He graduated from the Film program at Columbia College in 1967 and went on to work in studio production for over three decades as a production manager, assistant director, set designer, and producer. He was a member of the Director's Guild of America. He also co-founded Columbia College Chicago's "Semester in L.A." program.
Enrietto did set design and art direction on several low budget films in the 1960s including "She Devils on Wheels", and "The Girl, the Body, and the Pill".
He went on to work on several movies including "Harold and Maude", "Tora! Tora! Tora!", "Phantom of the Paradise", "Butch Cassidy and the Sundance Kid", and "The Outside Man".
His TV credits include: "In the Heat of the Night", "Remington Steele", "Behind Enemy Lines", "Something About Amelia", "Little House on the Prairie", and "Hawaii Five-O". He was the producer for the mini-series "Backstairs at the White House."
Enrietto created the Semester in L.A. program with fellow Columbia College Chicago faculty member Don Smith in 1999 from a long-held belief that the college should have a presence in Hollywood. He helped develop the program of classes based at CBS Studio Center in Studio City, California. The program offered lots of working professionals as guest lecturers covering screenwriting, costume and styling, animation, adaptation, entertainment journalism, movie marketing, public relations and publicity.
Enrietto died December 27, 2003 in Chicago, IL.
Collection Inventory
Want to see more of the Robert Enrietto Collection's materials at Columbia College Chicago? Access the online finding aid to see the holdings of the entire collection. Please contact us with any questions and requests to view materials.