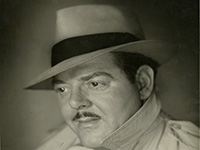 About the Collection
Clyde Martin Caswell was a radio pioneer in the 1940s and 1950s whose on-air name was Jim Christie. He also served as the head of the Columbia College Radio Department and later, as Dean of Students at the college. The collection strength lies in its radio recordings from the time period. The collection dates span from the late 1940s to the late 1950s and measures 4 cubic feet. Caswell died in 1958 in Evanston, Illinois.
Biography
Clyde Martin Caswell was born March 1, 1909 in Blue Earth, Minnesota to James Caswell, a restaurant owner from Wales, England and Ottie Christie, a housewife from Iowa. He was educated at Minnesota State Teachers College in Manketo, Minnesota, served in the Army from 1943 to 1945, and married Mary Louise (Nienz) of Des Plaines, Illinois in June, 1950.
He was a radio personality who hosted a number of country and western music programs during the 1940s and 1950s and was best known by his stage name Uncle Jim Christie, formed by combining his father's given name with his mother's maiden name and his radio show, "Uncle Jim's Jamboree", featured poetry, interviews, gospel, and country music.
Caswell spent more than twenty years as an executive in the radio broadcasting industry, serving in nearly every capacity found in a station operation including announcer, copy writer, salesman, program director, and station manager. For several years, he was in charge of training programs for announcers and station personnel and was a regular feature of coast-to-coast radio networks, including Fort Worth, Texas, Hammond, Indiana, Springfield, Missouri, and St. Paul, Minnesota.
Caswell came to Columbia College in the late 1940s with nearly twenty years of radio experience to serve as head of the Radio Department. He was then appointed Dean of Students and was involved in the school's expansion into Mexico City in the early 1950s.
Caswell died July 5, 1958 in Evanston, Illinois and is buried in St. Boniface Cemetery in Chicago.
Digital Exhibit
View the Byte Sized History, Episode 6 video which features photographs and a biographical overview about Clyde Caswell.
Collection Inventory
Want to see more of the Clyde Caswell Collection's materials at Columbia College Chicago? Access the online finding aid to see the holdings of the entire collection. Please contact us with any questions and requests to view materials.
Browse the Clyde Caswell Radio Broadcast Collection: