Title
Preview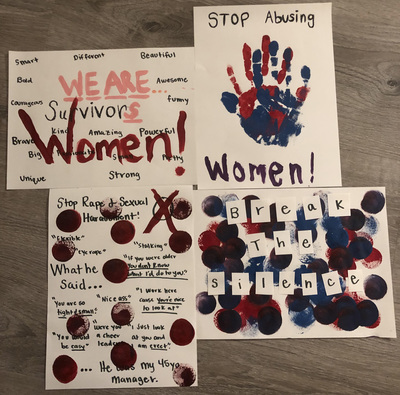 Description
WHY THIS SUBJECT? I chose to focus on the "Me Too" and feminist movement around sexual assault and harassment because it hits close to home for me and my personal story. I want to raise more awareness on this because everyday more and more women get brushed under the rug trying to tell their stories. We are women and we can come together and have strength.
WHAT SHOULD WE KNOW ABOUT THE WORK? The viewers should know that this is not only a display of a personal story but one that other women and men who have experienced sexual assault, violence, and harassment can relate to. I also want to acknowledge that men have faced sexual assault too and it shouldn't be taken lightly they are just as important. My main focus will be on the power within a woman but a person, man or woman can fight adversity. Focusing in light of the "Me Too" movement, I want to shed light on how women can feel men take control over them. I used the paint as a message to combine how we can feel trapped. Red is a common color symbolized for women and blue, for men combining these the different colors create a dark purple and show darkness in the idea of sexual assault and harassment. Using paint was also a different way to get these messages across and the power color pops and words have on a page.
WHAT WAS YOUR PROCESS? As I referred to in the last statement, paint was a really fun and different way to use in this project. I thought of the idea to use hands because it seems like the paint is spreading and this kind of awareness needs to be spread. The use of color in the paint I chose was also really important to me because it stands for who is who in this situation. The man or abuser taking advantage of the other hand and has power over them was what I tried to create in the process. During the final stages of my process I wanted to create on mashup of 4 different parts in the poster having words and imagery as a way to make the poster stand out and seem large in words and power.
Creative Commons License


This work is licensed under a Creative Commons Attribution-NonCommercial-No Derivative Works 4.0 International License.
Keywords
women, "we are survivors", "stop abusing women!", "break the silence", "stop rape and sexual harassment!", me too
COinS