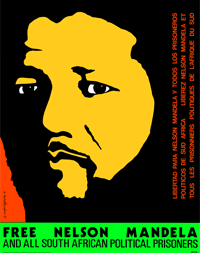 The Chicago Anti-Apartheid Movement Collection was assembled through the efforts of Dr. Lisa Brock in 2007, then the Columbia College Chicago Chair of the Humanities, History and Social Sciences Department. A seminal force in the local anti-apartheid movement, Lisa brought together many of her colleagues who donated the material that forms this collection.
The end of the apartheid system was brought about, in part, by groups of people working locally around the globe who fought apartheid by endorsing economic sanctions and company boycotts. What we have broadly termed the "Chicago Anti Apartheid Movement" collection is made up of several local groups' records. The majority of the collection chronicles Chicago area activists' work in bringing an end to the apartheid system of government in Southern and South Africa. Some of these local organizations also fought other social issues, so there is a small amount of material in the collection that does not directly relate to the anti-apartheid movement and include topics such as geopolitics, public health and safety, and immigration matters; most of these materials are found in the digitized poster collection and related individual collections.
Collection Inventory
The Chicago Anti-Apartheid Movement Collection online inventory guide shows the contents of the collection held at Columbia College Chicago. Please contact us with any questions.
African Political Posters Posters collected by local activists, include African National Congress (ANC) posters, Mozambique posters, and Africa maps and posters about social, economic, and political conditions of countries under apartheid governments.
Related Resources
Oral History interviews conducted by Columbia College Chicago students with members of the Chicago apartheid protest community. View the Columbia College Oral History Model applied to these interviews.
Rozell (Prexy) Nesbitt Collection An activist and organizer of anti-apartheid groups in the Midwest and abroad.
Cheryl Johnson-Odim Collection A Chicago area community activist and educator.
Orlando Redekopp Collection An activist and 1994 South African election observer.
Chicago Anti- Apartheid Movement Educational Boards features protest boards, posters, flyers, pamphlets and images mounted on board and taken to events as educational tools.
A Protest features posters from this collection examined by a class at Columbia College Chicago in an exploration of art as protest during the spring 2019 semester.
Response 2020-Capturing Protest students created contemporary protest posters based on the study of the posters from the Chicago Anti-Apartheid Movement collection.
Timeline of Apartheid in South Africa exhibit explains the history of the South African apartheid government.
External Resources
African Activist Archive Project at Michigan State University
Melville J. Herskovits Library of African Studies at Northwestern University
Black Metropolis Research Consortium (BMRC)

Browse the Chicago Anti-Apartheid Movement Collection: